Next year is Pastor and my 10 year anniversary. For fun, I've started looking "dreaming" of where we will go for a little trip. We never had a honeymoon, we moved to college (inbetween our Sophomore and Junior years) instead. What a honeymoon. We've either been in college, master's school, on internships, or had kids that we couldn't leave, because I was nursing them. I don't know how, but we've timed it just right. Next summer I will not be nursing any babies anymore and will be able to leave for an extended time, hopefully.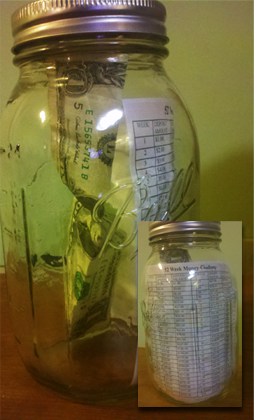 So, looking at our budget, we really don't have a "LOT" to play with. Really none. BUT, we are going to do something, even if its just camping in Yellowstone, by ourselves. I'm going to take this 52 week Money Challenge. I think I can do it. I like how
she
goes to the bank and gets dollar COINS. It's maybe not as tempting to take out coins as it is dollar bills. At the end of the year, or 52 weeks, you'll have about $1300! I'm going to try it. :) At the start it won't be hard, but in the end it will be. I'll see how long I last.